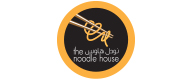 The Noodle House draws its inspiration from the crowded streets of South-East Asian cities such as Hong Kong, Shanghai, Bangkok and Jakarta.
Healthy, delicious and vibrantly fresh Southeast Asian food is precisely the type of food that is served and, in keeping with the unpretentious, streetwise ambiance, diners simply tick their choices on an order pad and hand it to their server.
People are drawn to the vibrant atmosphere of the noodle house. Diners feel at ease in the cheery, communal, atmospheric buzz that is typical of a popular street stall. The chef's whip up aromatic dishes within minutes over an open flame, in full view of guests and the experience is a unique combination of wholesome food and an energetic ambiance that very few restaurants have been able to perfect quite like we have.