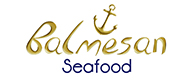 Experience fresh seafood with Qatari flair. Named after a place in Old Doha famous for its fishing activity, Balmesan is a restaurant with the heart of Qatar in every bite.
The selection on hand is plenty, with a wide variety of delicious items on the menu. Pick the freshest seafood available and choose to have your choice grilled, fried, or baked to your taste along with your preferred flavors. For the perfect accompaniment to your meal, a salad bar offering an abundance of healthy choices is also available with some of the best tasting salads in Doha.
At Balmesan, we offer you the finest seafood dining experience in the country.
–