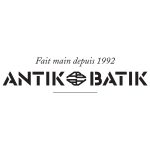 Antik Batik is a designer French label founded in 1992. Since its beginnings, it has cultivated an authentic and "bohemian-chic" fashion style beloved by many.
Natural materials, mixed artistic influences, and artisanal embroidery and printing create the elegance of a dandy and travelling woman.
The finest Antik Batik pieces require several days of work. Antik Batik works with around twenty ateliers around the world and each handmade piece is unique.
Techniques often used are embroidery, 'Batik' which is a fabric printing technique over a thousand years old, where hand carved wooden stamps are used to print materials, and 'Bandhani', an ancestral technique of dyeing similar to 'tie dye'.
–