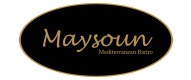 Maysoun café is dedicated to serving the freshest and most delicious Mediterranean cuisine. Aside from their famous Lebanese dishes, you can also find a number of international choices on the menu, most notably the pizza cooked in a traditional pizza oven.
With a relaxed and casual atmosphere, guests may choose to experience the delights of Maysoun
either inside the café, or out on the terrace.
–