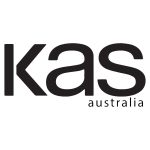 Kas Australia specializes in stylish, fashionable and colorful home furnishings that all reflect the youthful outlook of the brands designers and management. Its range includes coordinated bed linen, cushions, throws, and comforters that are all designed to complement each other. Also offered are bath towels, home fragrances and foot stools.
The company employs a wide range of manufacturing techniques and finishes, resulting in a collection which includes luxe items as well as more casual design ranges.
Kas has developed a worldwide reputation as a supplier of top quality designs combined with consistently competitive price points. Kas' designs reflect the casual sophistication of contemporary Australian life and the variety of choice demanded in today's home wares marketplace.
–