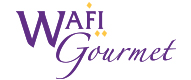 Wafi Gourmet is an authentic Lebanese restaurant and delicatessen, which serves some of the most amazing mezza, kebabs, and shawarma around. At the delicatessen you may find mounds of fresh cheese, olives, spices, and tea leaves. Also available is their sensational homemade
ice cream and an extensive array of delicious sweets and pastries.
Connoisseurs of authentic Lebanese Cuisine will find it difficult to ignore the many mouthwatering temptations that Wafi Gourmet is famous for. Dining out is not just about food, it is also about the experience that brings out a whole lot of joie de vivre.
–