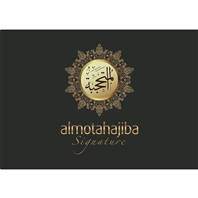 "Hand crafted, designed with passion…"
Almotahajiba Signature is the luxury label of Al Siddiqi Brands, sharing the same culture of excellence and creative spirit as its existing homegrown fashion brands.
With the aim to become the leader in the luxury Arabic womenswear market, Almotahajiba Signature covers an extensive range of products, offering abayas, jalabiyas, sheilas and accessories with modern, exquisite and exclusive designs. In deep respect of Al Siddiqi Brands founders' vision: "Believe, Achieve, and Succeed", Almotahajiba Signature praises five core values: Constant innovation, extreme care of craftsmanship and materials, entrepreneurship mindset, upstanding leadership, and social responsibility. Future projects include the creation of a full line of fragrances, eyewear and jewelry.
–